The Suspense is Over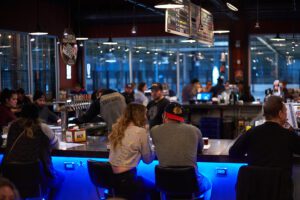 After three dry years, Lagunitas Taproom & Beer Sanctuary has finally returned! The beloved company turned their taps off in 2020 as the COVID-19 Pandemic began to surge. However, on Saturday, April 13th, Lagunitas Taproom officially opens their doors to the public! Hundreds of loyal patrons have been expressing their seething anticipation online; it seems that distance has certainly made the hearts grow fonder!
The Lagunitas Brewing Company has been a staple in the IPA universe for decades. Throughout the 32 diverse, hop-forward draft lines, the beer is consistently crisp, easy to drink, yet unique. Its traditional roots are pure, which is why the public has always been so drawn to it. Chicago is lucky to house such an influential brewhouse, and even more lucky to witness its comeback!
Don't Miss Out
Head to Lagunitas Taproom & Beer Sanctuary this spring to witness the wonders of the establishment. There will be phenomenal food offered, as well as the fascinating 360-degree view of the brewing station. In authentic Lagunitas style, music and stories will be told to welcome the faithful Chicagoans back to their favorite brewhouse. Games, dancing, tempting sips, and more will be waiting for you on April 13th, so plan your visit now!
Written by Bridget McGann